a place to learn, to share, and to experience
knowledge, skills, and ideas
in gardening and garden design.
SUMMARY OF 2019 dates ..... go to the programme page for full details
South-West & Cotswolds
4 April, 17 April @ Yeo Valley Organic Gardens, Somerset 1 May @ The Coach House, Gloucestershire 20 June, 21 June @ Hillside Gardens, nr. Bath Somerset 5 July @ Forde Abbey, Somerset 13 September @ Arvensis Perennials, Wiltshire 30 September @ Iford Manor Gardens, Wiltshire 25 September @ Yeo Valley Organic Gardens, Somerset 10 October @ Forde Abbey, Somerset South 2 July @ Bury Court, Hampshire 2 September @ Bury Court, Hampshire 9 September @ Bury Court, Hampshire 11 September @ Borde Hill, Sussex 24 September @ Great Dixter, Sussex 2nd October @ Alitex, South Harting, Sussex 11 October @ The Horniman Museum, London
Midlands 1 May @ Trentham Gardens, Staffordshire 12 June @ Thenford Arboretum, Northamptonshire 10 July @ Green and Gorgeous, Oxfordshire Wales and the Borders 12 September @ Wildegoose Nursery, Shropshire 3 October @ Wildegoose Nursery, Shropshire East Anglia 10 September @ East Ruston Old Vicarage Gardens, Norfolk North 18 June @ Chatsworth Gardens, Derbyshire 10 July, 11 July @ Sheffield Botanical Gardens, Yorkshire 23 July @ Scampston Walled Garden, Yorkshire 10 September @ Stillingfleet Lodge, Yorkshire 14 October @ Beningbrough Hall Gallery & Gardens, Yorkshire 17 October @ Adderstone House, Northumberland
Scotland 21 August @ Whitburgh House, Midlothian 18 October, 19 October @ Hospitalfield, Arbroath, Angus The Mainland 28 & 29 May @ Col de la Gineste & Meze, Southern France 3 July @ Vlinderhof, Utrecht, Netherlands
Keeping in touch…… if you would like to be on our mailing list please let us know by dropping us an email at gardenmasterclass@gmail.com…..
This is worth doing if there is nothing you want to, or are able to get to, on this year's calendar of events, but would like to be informed of future events. We are also keen to find new venues, particularly in places where other garden classes don't operate, hear suggestions for speakers, subject matter etc., etc.
Head Gardener Tom Brown talks through a late season border at a Parham House, Sussex, August 2017.
Paul Smith, Head Gardener at Scampston Hall in Yorkshire expounds on the Piet Oudolf design, October 2017.
Leading garden photographer Jason Ingram shares his skills at Yeo Valley Organic Gardens, Somerset, July 2017.
Nurseryman and grass expert Neil Lucas at Bury Court, Hampshire, October 2017.
Designer Sarah Price leads the drawing class at Treberfydd, July 2017.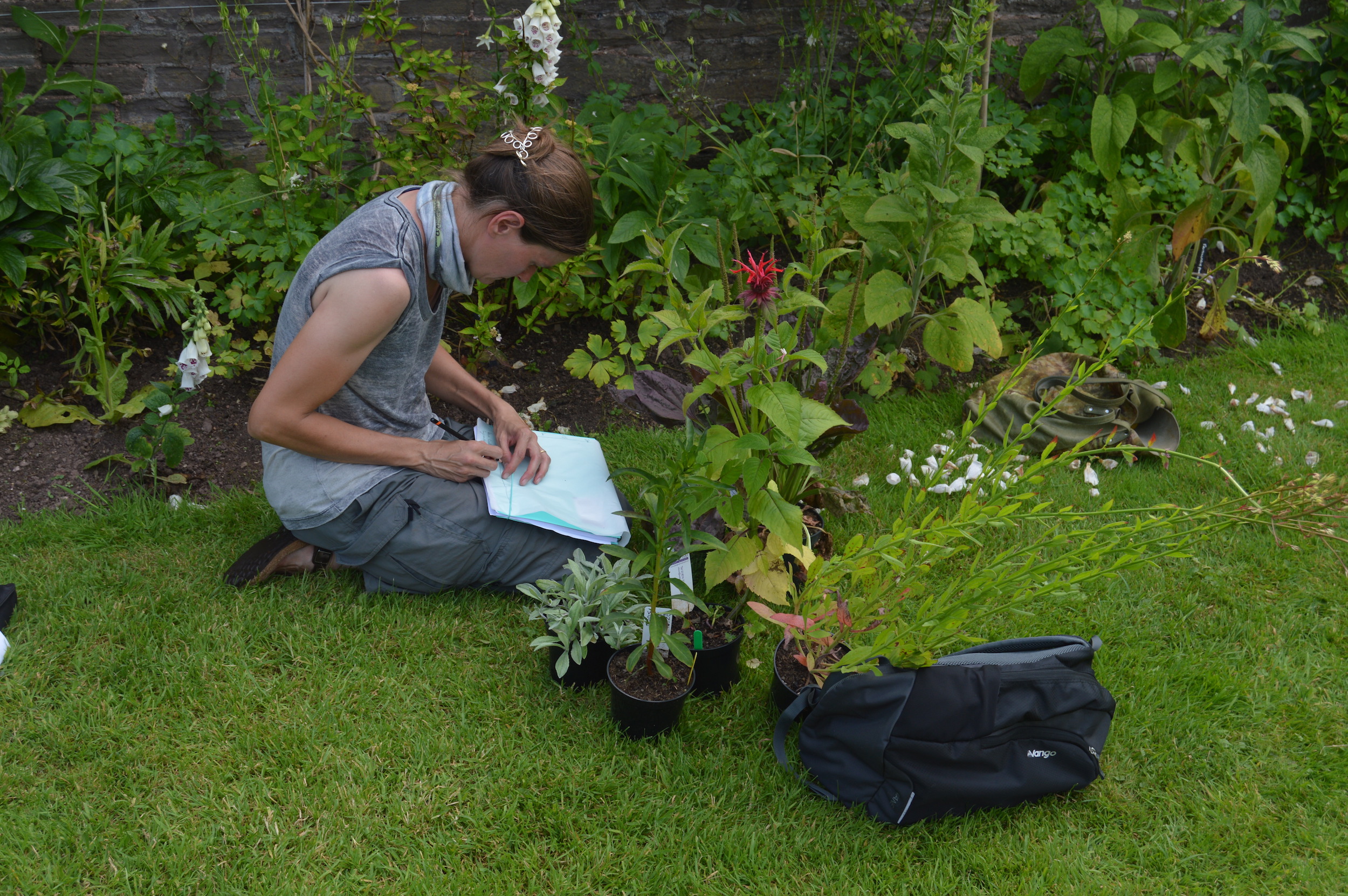 A drawing exercise at Treberfydd Walled Garden in South Wales.
Banner image: Nigel Dunnett at Trentham Gardens, June 2018